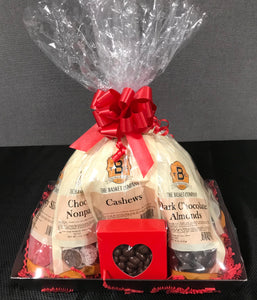 A handcrafted gift basket filled with our own products!
A Valentine's Heart Box with Chocolate Covered Peanuts, Bag of Chocolate Pecan Frogs, A Bag of Milk Chocolate Cashews, A Bag of Dark Chocolate Almonds, bags of Nonpareils, Cinnamon bears, Cherry Slices , Valentine Yogurt Pretzels, Assorted Toffees, Roasted Almonds, Cashews, Deluxe Mixed Nuts, and Dark Chocolate Peppermints.
You can feel the love just thinking about it!